Science Advice
Progress towards universal access to sexual and reproductive health services. What is the role of evidence in policy and programme decision-making?
Thursday, 7 July 2022 at 2:00 PM (CEST)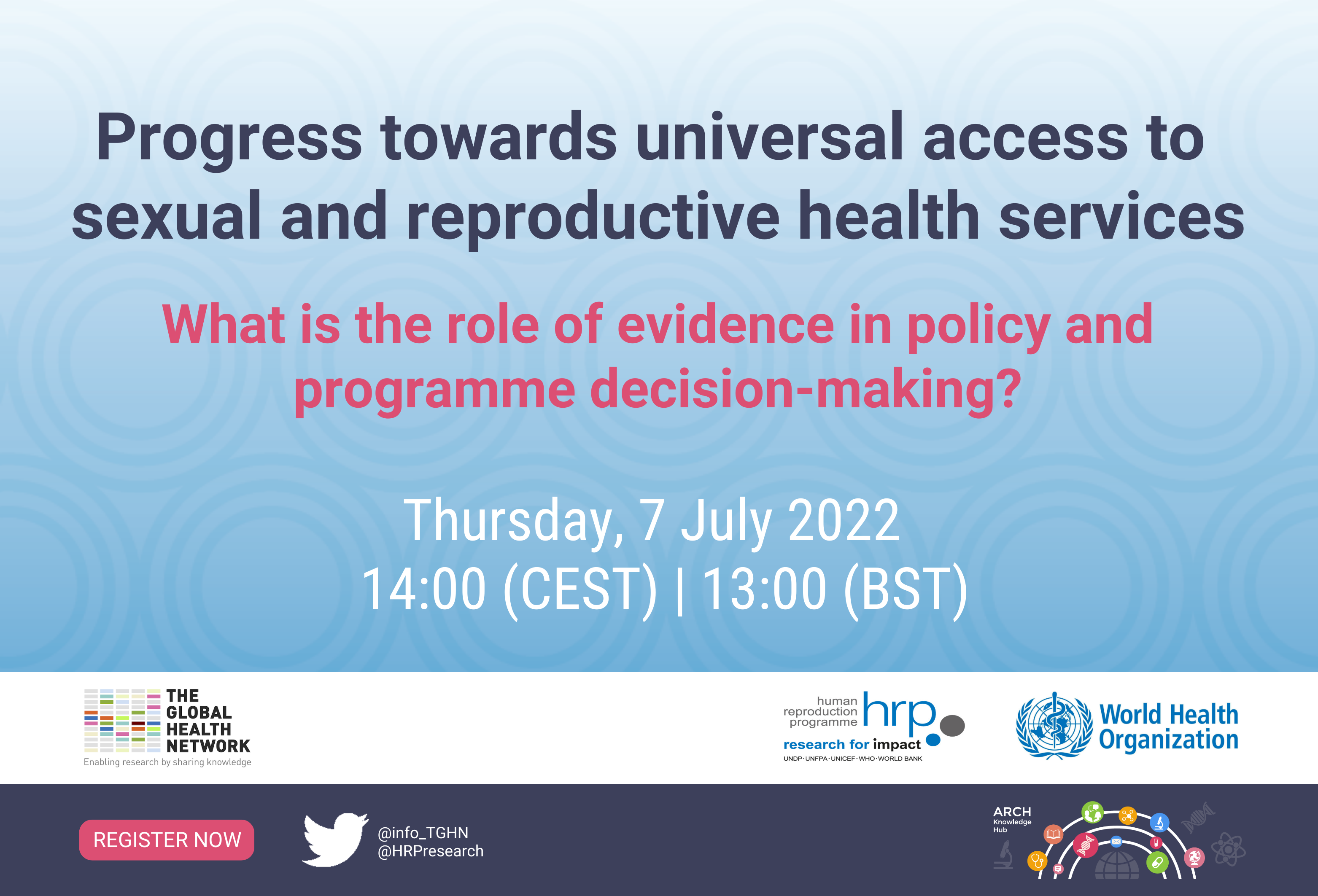 Despite efforts made by Members States to promote evidence-informed health policy and programme decision-making, translating research evidence into policy remains a very challenging task. The World Health Organization's Department of Sexual and Reproductive Health and Research (SRH) through the Human Reproduction Programme (HRP) collaborates with countries to strengthen national capacity to conduct research, and implementation of global guidance adapted to local need and context. A discussion on countries' experiences with evidence-informed decision-making for SRH policies and strategies, including barriers and enablers, although context-specific can bring to light common factors and cross-country learnings, increase collaboration between countries, and inform country health policy dialogues. The main objective of the webinar is to create a space for diverse stakeholders (decision-makers, researchers, donors and civil society) to share experiences and strategies for promoting evidence uptake and driving action in SRH policy decision-making and programme implementation and resource allocation decisions.
Chair
Dr Ian Askew is with WHO's Regional Office for Africa (AFRO), where he provides guidance on the integration of SRHR within national UHC and PHC programmes. Previously, Ian was the Director of WHO's Department of Sexual and Reproductive Health and Research (SRH), and also the Director of the UNDP-UNFPA-UNICEF-WHO-World Bank Special Programme of Research, Development and Research Training in Human Reproduction (HRP), with responsibilities for WHO's normative guidance, generation of evidence through research, research capacity strengthening, and providing global leadership on SRGR. A social scientist by training, before joining WHO Ian was a director at the Population Council leading its global programmes of implementation research to strengthen SRHR.
Background presentation
Dr Georges Danhoundo is a technical officer for sexual and reproductive health integration into health systems in the WHO Department of sexual and reproductive health and research in Geneva. His work focuses on advancing access to SRH in the context of Primary Health Care (PHC) and Universal Health Coverage (UHC).
Speakers
Dr Sabeen Afzal is a medical doctor and public health professional currently serving as Deputy Director (Technical/health system) at the Federal Ministry of National Health Services, Regulations & Coordination (M/o NHSRC), Pakistan. She has been working in the Ministry of Health for the past 19 years and has held many key positions and portfolios at the Ministry of Health including Medical Education & Regulations, Public Health, Nutrition, Maternal Neonatal & Child Health, International Health Regulations (IHR) and Health Systems. She was team lead in developing various proposals and planning documents. She was instrumental in developing National Health Vision Pakistan 2016-25, Pakistan Human Resource for Health Vision 2018-30, National Digital Health framework, generic UHC benefit package for Pakistan, Health Security Financing Assessment, National Risk Communication Framework etc. Presently, she is involved in enhancing the alignment, harmonization and coordination for various governmental initiatives, including Universal Health Coverage (EPHS), International Health Regulations, SDGs etc. She received Letters of Appreciation for Outstanding Service for developing Pakistan Human Resources for Health Vision from Federal Secretary, Ministry of National Health Services, Regulations & Coordination and for Dedication, Commitment & Hard Work displayed during 100 Days of Nation's Resolve against the COVID-19 from Mr Asad Umar, Federal Minister for Planning, Development, Reforms & Special Initiatives., Chair, National Command and Operation Center.
Prof. John Ataguba is a Health Economics Professor and the Canada Research Chair in Health Economics at the University of Manitoba. He is also the current Executive Director of the African Health Economics and Policy Association (AfHEA). Previously, he was the South African Research Chair in Health and Wealth (2018-2020) and a Professor and Director of the Health Economics Unit at the University of Cape Town, South Africa. He holds a PhD in Economics from the University of Cape Town and serves as a member of the Board of Directors for the International Health Economics Association. John was a Mellon Mandela Fellow (20016/17) at Harvard University, the USA, and a member of the World Economic Forum's Global Future Councils for (i) Health and Health care and (ii) Healthy Ageing and Longevity. His research interests include health financing, health inequality, equity in health and health care, social determinants of health, health economics methodology design and the economics of ageing. He received many awards, including the Canada Research Chair in Canada and the TW Kambule-NSTF emerging researcher award in South Africa (the 'Oscar Award' for science and research in South Africa).
Deepa Venkatachalam works with Sama Resource Group for Women and Health and is based in Delhi, India. Her work is located at the intersection of public health, SRHR, gender and human rights through research, advocacy and training. She has been involved with the the People's Health Movement in India, the Alliance for Gender Equality and UHC, as well as with other health and feminist initiatives and spaces.
Closing remarks
Dr Veloshnee Govender is a health economist with health policy and systems expertise in the Department of Sexual and Reproductive Health and Research (WHO, Geneva). Veloshnee also holds an honorary associate professor post in the Health Economics Unit (University of Cape Town, South Africa) and School of Nursing and Public Health (University of KwaZulu-Natal, South Africa). Prior experiences include the Alliance for Health Policy and Systems Research (WHO, Geneva), Health Economics Unit, and Indian Institute of Management (Bangalore, India). Her areas of work include health system strengthening, gender and equity issues in the context of sexual and reproductive health and rights and TB/HIV/AIDS..
---
---
| | |
| --- | --- |
| | Progress towards universal access to sexual and reproductive health services. What is the role of evidence in policy and programme decision-making? |